Protecting your loved ones with life insurance is easy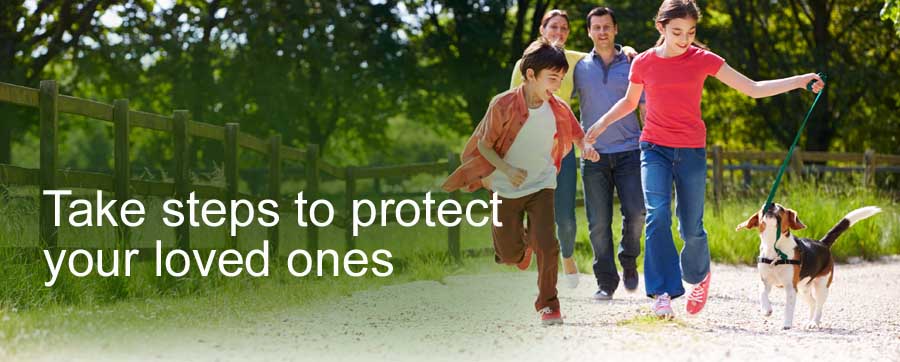 Protect your family
According to the Insurance Barometer Study conducted by LIMRA and Life Happens, nearly 60% of adults own some type of life insurance, but research shows the coverage they have may not be enough. In May 2020, more than half of Americans (53%) expressed a heightened need for life insurance because of COVID-19. Now more than ever, it's an important time to consider your need for life insurance.
Taking steps to protect your family and loved ones is one of the greatest gifts you can give them.
Apply for life insurance
One important way you can protect your family financially is through life insurance. The process is easy and convenient to accommodate your busy schedule. Now there is no need to fast and you have several convenient options for getting a health exam – including at your home, office or at a nearby collection site. Talk to an expert today to find out what policy best fits you and your financial needs.
Know your health status
Understanding the status of your health provides you peace of mind to take care of others and live a healthier lifestyle. After applying for life insurance, many policies provide you with your laboratory test results from your exam, which you can share with your physician. Up to 70% of medical decisions are based on laboratory tests, these results provide valuable insights into your health.
Show your support and appreciation
This is also an opportune time to say "THANK YOU" to all the dedicated people behind the scenes who help protect more families with life insurance. "THANK YOU" to the agents and brokers talking to families every day about their futures. "THANK YOU" to our employees on the frontlines – our examiners, office staff and laboratory workers – working to provide insurers and consumers the best customer service and quality experience possible.
MEET SOME OF OUR DEDICATED EMPLOYEES
SEE OUR COMMITMENT TO OUR COMMUNITY AND INDUSTRY
Color and share a fun coloring page to show how your support of life insurance awareness. Display it, share it, show everyone how much you care during Life Insurance Awareness Month (LIAM).
opens in a new windowDOWNLOAD COLORING PAGE